Bloom
Sale price Price $69.95 Regular price
Tax included.
Shipping
calculated at checkout.
Bloom is a deck of 40 postcard-sized affirmation cards created to encourage and support you through all the seasons of motherhood; from pregnancy to birth and the years beyond.
The perfect gift for yourself or a friend; each card features beautiful floral imagery, an inspiring affirmation, encouragement or reminder, and comes packaged in a luxurious gold foiled gift box. This limited launch edition includes special gold foil printing on the back of all affirmation cards too!
Details
40 postcard-sized affirmation cards & an additional welcome card (41 cards total)
Each card is 102mm x 148mm and printed on a thick 350gsm recycled paper stock
Each card features a unique phrase and floral photograph
The deck is encased in a luxurious gold foil printed gift box
Special launch edition features gold foil printing on the back of the each card
Designed, written and photographed in Australia by us (check out our design studio Hello Hello Studio for more of our design work)
Printed in Italy on recycled FSC certified paper using food grade inks
*Printing/Gold Foiling: Please note that due to the delicate nature of gold foiling, some variations, marks, spots or scratches can be expected.
Shipping
Shipped in a 100% recyclable FSC certified honeycomb paper padded mailer, wrapped in tissue paper and accompanied by a 100% post-consumer recycled paper thank you card. Where possible we've tried to use eco friendly packaging, and continue to seek out ways to improve.
We aim to dispatch within 2 business days of purchase.
For our international customers, please note that any items shipped internationally may incur fees and duties charged by customs in the country you are shipping to.
Special Note
You may notice that three of the forty included cards reference God; as Christians ourselves, our relationship with God and reliance upon him was and is an integral part of our journey. These reminders in particular brought us such a comfort and it would be inauthentic to us and our journey to not include them. We hope that they can encourage you in some way, whether Christian or not, and if they're not to your taste that you may be able to gift them to a friend xx.
More Details
What are the cards for?
Pregnancy:
Used throughout pregnancy to encourage, uplift and reduce fear as you prepare for labour and your transition to motherhood. The phrases cover key aspects of pregnancy; including feeling beautiful, loving your changing body, patience for the arrival of your little one and confidence in your body's ability.

Birth:
Designed to be an empowering tool in labour and delivery, suited for use as part of, or alongside Hypnobirthing, Calm Birth and other programs/techniques; with phrases focusing on remaining calm and relaxed, breathing and opening, moving with surges and releasing control.

Motherhood:
Beautifully supportive for the journey of motherhood, particularly during the tender postpartum period but also for the years beyond; the focus here is on releasing expectations, taking things slowly, being kind to yourself and not being alone.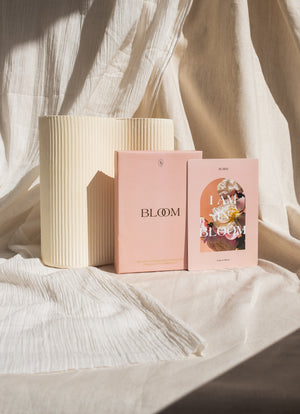 How you can use them
Use them however you feel lead, some ideas are:
Throughout pregnancy place them around your home in places you will see them daily, or where you may end up labouring; stick them on the fridge, on the mirrors of your bathroom, next to your front door,
Carry them in your bag, or keep some with your papers/documents for when you go to appointments.
Reflect on them as part of practice and preparation for labour, or in a daily mindfulness practice/prayer
Pack them in your labour bag
Hang them in your birthing space (if you intend to labour in the shower, you can even stick them on the outside of your shower facing inwards)
Repeat to yourself as you're carried through surges or have a loved one read them out to you
Place them in key areas where you will be feeding and interacting with your baby, especially at night; on your bedside table, next to the cot or bassinet, next to your feeding chair/spot, near the change mat.
Why we created Bloom
What started as a gift from my husband while I was pregnant, has now become Bloom. The journey of motherhood is wonderfully beautiful but not always easy; your body changes, birth can be daunting and your whole life is turned upside down when you welcome your little one into the world. Our experience, like millions before us, has been filled with highs and lows, yet we often found we were saying many of the phrases in these cards to remain grounded, to ease doubts, to celebrate the wins and support each other in every stage of our journey so far. We hope these can be a blessing to you and others around you too!